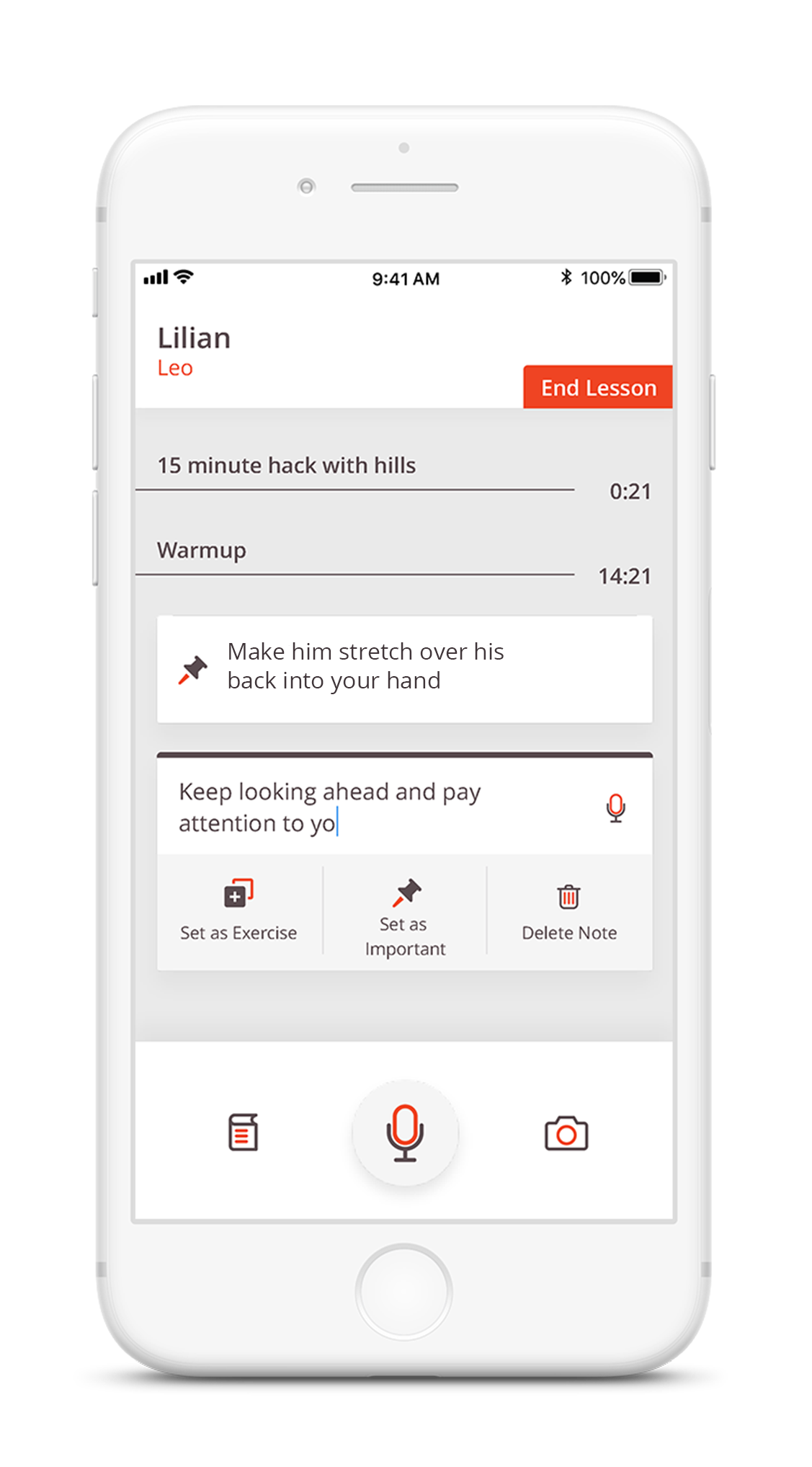 Live Audio-to-Text Recording
When you're sitting on a horse barrelling towards a jump, you can't pull out your notebook and jot down what your coach is telling you to focus on. But with Levade's voice-to-text feature, you can effortlessly document and archive exactly that feedback. This allows you to review it anytime, making sure what you're learning isn't slipping through the cracks.
Stop second guessing your skills and progression. Build your craft by properly utilizing the tools your coach is giving you. Never miss a beat and stop losing information. Keep track of your feedback, have plentiful resources, and stay in touch with your trainers all in one easy to use space.

We're Not Just Another Equestrian App.
Levade is a mobile platform that collects and archives the most important elements of your lesson.
What sets Levade apart is the app's focus on each lesson and horse. You simply start a new lesson and let the fun begin!

The coach can record comments and corrections in the app during your lesson using voice to text technology by simply pressing and holding the microphone button. Both photos and videos can be recorded within the app during your lessons as well.
Once your lesson is done, everything you've recorded will be saved into your lesson log. There, both student and coach can access and review the information at any time after the lesson. They can track their progress, build their log and teach as well as learn more precisely. That way, they are better prepared for the next lesson and ultimately progress much faster.
The tool is designed to assist everyone – the coach, student and horse-owner.
Never before was there a comprehensive tool like Levade to help riders progress.

Never before was money spent on lessons so accountable.
Say goodbye to the days of nagging your coach to send that photo, or having to dig through your photo library to find the last video your coach took during a lesson. Store your photos and videos alongside the key points of feedback from that lesson to help you review, recreate, improve and master your skills.
Never miss a lesson or appointment for your horse with Levade's integrated calendar system. Seamlessly track appointments and meetings for multiple horses.